Kickstarting the Decade of Action, launching the 2022 Initiative in Davos 2020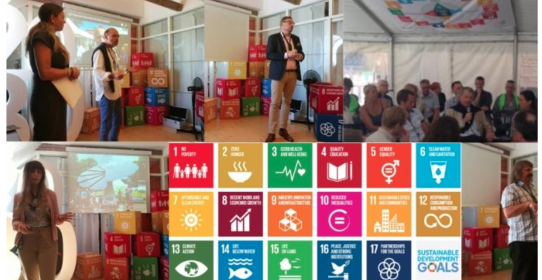 Time for Action NOW! TOMORROW IS TOO LATE!
– In 2022 we're halfway in the 2030 Agenda. We need to be halfway in the implementation!
Join us at a

A conversation with Jakob Trollbäck, who designed the SDG logos and is the Founder + Chief Creative Officer of The New Division; he will be joined by Inge Relph (Executive Director at GlobalChoices.org), Helena Lindemark (Founder, 2022 Initiative Foundation and Sustainable Development Sweden AB) and Isabelle Axelsson (Spokesperson Fridays For Future)

—
To accelerate the implementation of the 2030 Agenda and hold today's leaders accountable, we need milestones and Interim Targets.
The year 2022 is halfway to 2030. 2022 is also the 50th Anniversary of the United Nations Conference on the Human Environment held in Stockholm 1972, the world's first UN conference on sustainable development, and 50 years since the formation of UNEP (today UN Environment).
Through milestones, Interim Targets, a simplified way of understanding the SDGs, combined with tangible KPIs and digital solutions to track progress, we can speed up the process.
Seminar and workshop for participants to sign up for concrete action and setting brave targets until 2022. Official launch of the 2022 Initiative.
—
Programme
14:00 Introduction Helena Lindemark, 2022 Initiative Foundation (10 min)
14:15 – 15:15 Panel discussion and interaction with the audience:
Jakob Trollbäck, The universal language of the SDGs and the need for action now
Isabelle Axelsson, Demand for ACTION from and for future generations
Inge Relph,– We are in a global crisis – it's time for action now.
Johan Falk, We need an Exponential Roadmap!
Panel and workshop with questions to the panel and the participants, using www.menti.com
15:20 Closing remarks – How far can we get till 2022? And what are you going to do?
15.30 End of event
—
For further details, please contact Marcelo Garcia (Wisdom House Founder); marcelo@wisdomaccelerator.org
—
Wisdom House admission is based on the old Italian « caffè sospeso » tradition, in which a person who had good news gets into a bar and buys two coffees, drinking one and leaving the other « suspended » for someone coming later who had bad news to have it for free.
We invite Davos residents for free to all sessions and non residents are asked to bring healthy food and drink for two people (themselves and a Davos resident); any non consumed items will be donated to local charities; cash equivalent contributions (CHF20+) are also welcome for those who do not wish to carry food and drinks
WisdomHouseDavos.org