Agenda 2030 – Hur kan Sverige ta ledartröjan internationellt i Agenda 2030, inför Stockholm+50?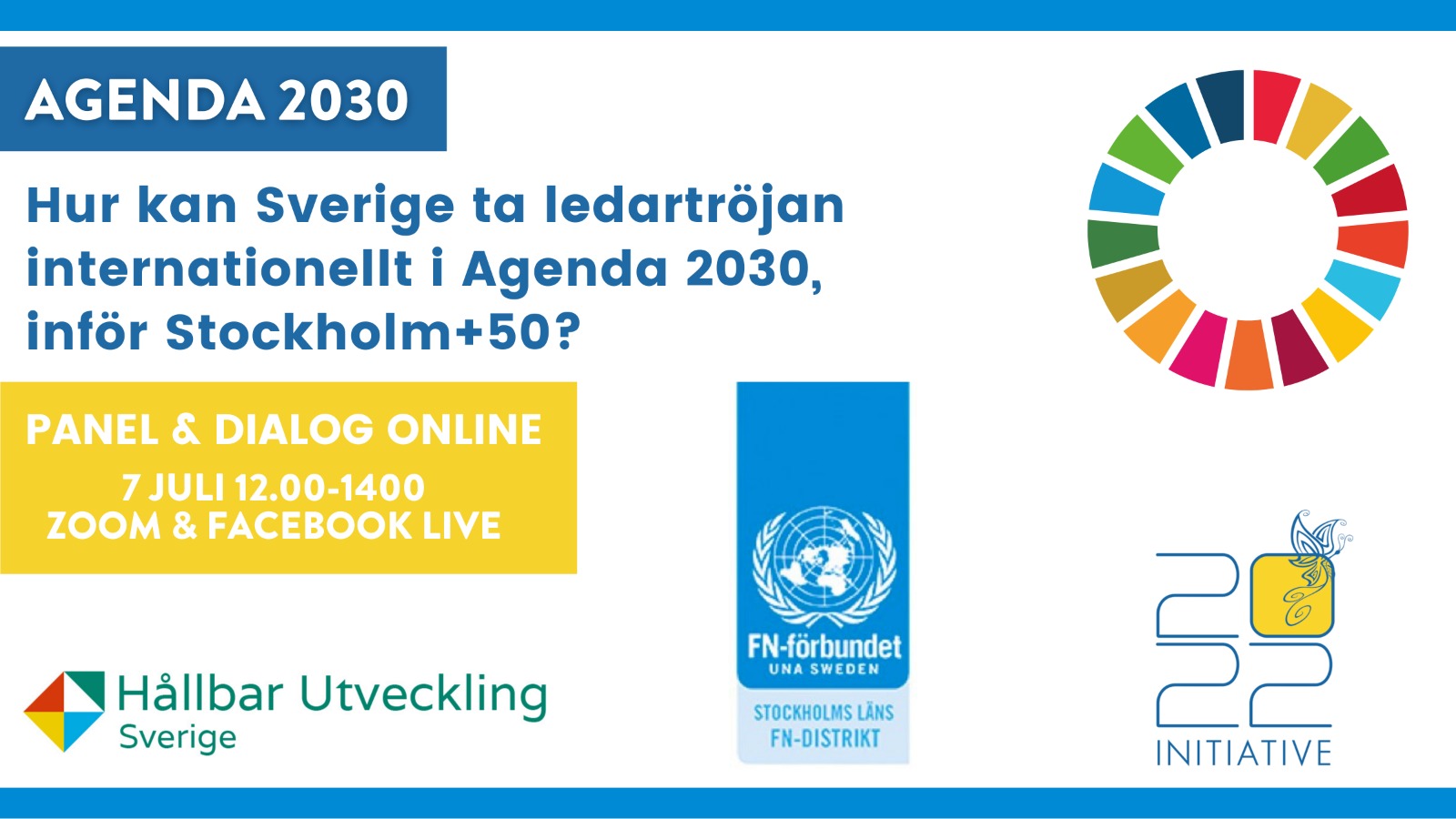 Arrangör: 2022 Initiative Foundation, Stockholms Läns FN-distrikt, Hållbar Utveckling Sverige AB
Dag: 7/7 2021 12:00 – 14:00
Evenemangskategori: Seminarium
Evenemangstyp: Workshop
Ämnesområde: Hållbarhet
Ämnesområde 2: Klimat/miljö
Språk: Svenska
Plats: Digitalt evenemang
Event Link: https://program.almedalsveckan.info/event/view/62214
LinkedIn: https://www.linkedin.com/events/hurkansverigetaledartr-janiagen6816433011148513280/
Facebook: https://fb.me/e/12NAEhkmY 
Beskrivning av samhällsfrågan
2022 är vi halvvägs till 2030 sedan överenskommelserna om Agenda 2030 och klimatet, men vi riskerar att vara långt ifrån halvvägs i genomförandet. Med milstolpar & dialoger kan vi öka takten, och genom att koppla till den planerade Stockholm+50 FN-konferensen kan vi öka engagemanget globalt.
Utökad information om evenemanget
Om vi ska nå de globala målen till 2030 och klara av klimatutmaningen behöver vi öka takten. År 2022 är vi halvvägs till 2030 sedan 2015 då världens ledare enades om både Agenda 2030 och klimatavtalet i Paris. Då är det också 50 år sedan världens första FN-konferens om hållbar utveckling hölls i Stockholm 1972. Vi har vetat länge vad vi behöver göra. Det är lätt att sätta mål till 2030, 2045 och 2050, men svårare att få till handling och effekt nu, men faktum är att vi kan komma långt redan med dagens lösningar. Vi vet att det är bråttom, och det vi gör de kommande två åren är avgörande för att vända trenden. Klimatet och den biologiska mångfalden kan inte vänta. Det handlar om våra barns och barnbarns framtid! Med den planerade FN-konferensen Stockholm+50 har Sverige en unik möjlighet att visa på ledarskap. Hur långt kan vi nå till 2022? Kan Stockholm bli Impact Capital of the World redan 2022? Välkommen till en dialog om hur Sverige kan ta ett ledarskap och öka takten globalt!
Medverkande:
Alexandra Davidsson, Generalsekreterare, Medveten konsumtion
Robin Holmberg, Ordförande, Push Sverige
Eva Karlsson, VD, Houdini Sportswear
Jan-Gustav Strandenaes, Ledamot / Koordinator UNEP Major Groups inför Stockholm+, 2022 Initiative & Stakeholder Forum
Leonora Hermann, Climate Live Sweden
Mårten Löfberg, Samordnare Agenda 2030, Sida
Kaj Török, Informations- och hållbarhetschef, Max Burgers
Helena Lindemark, Grundare/ledamot, 2022 Initiative Foundation & Stockholms Läns FN-distrikt
Peter Åberg, Ordförande, Stockholms Läns FN-distrikt