How can we create societies where we live in harmony with nature & leave no one behind?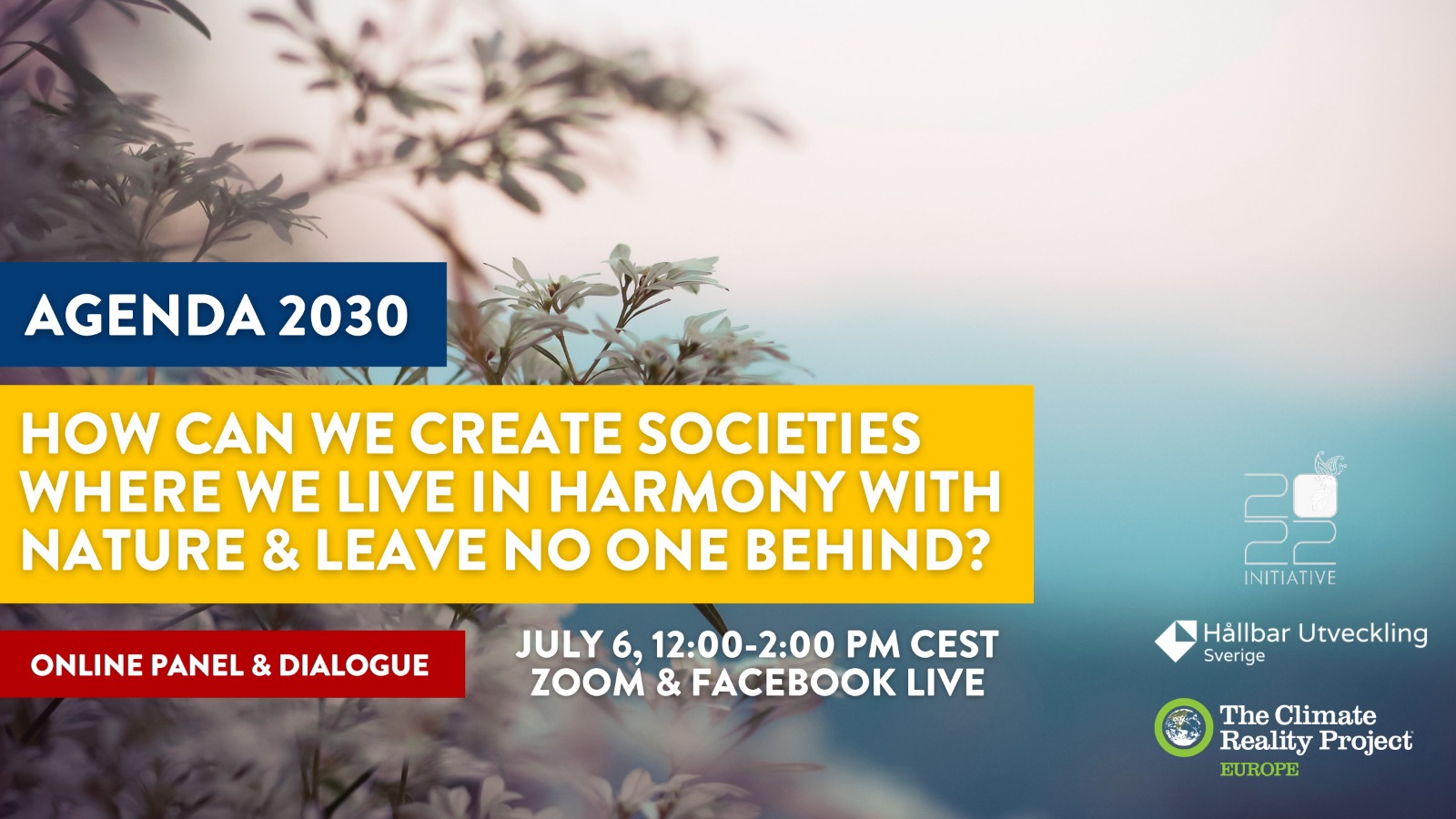 Organizer: 2022 Initiative Foundation, Climate Reality Project Europe, Sustainable Development Sweden AB
Day: 6/7 2021 12:00 – 14:00
Evenemangcategori: Seminar
Event Type: Workshop
Subject area: Sustainability
Subject area 2: Climate / environment
Language: English
Place: Digital event

Event Link: https://program.almedalsveckan.info/event/view/61545
LinkedIn: https://www.linkedin.com/events/2030agenda-howcanweliveinharmon6816408974401777664/
Facebook: https://fb.me/e/17CzyTjjJ
Description of the societal issue
To reach the 2030 Agenda we need to change our lifestyle & co-create societies where we live in harmony with nature. The pandemic has taught us that Nature can strike back but also that we can act fast & together. How can Nature & the 2030 Agenda guide us? Can Stockholm+50 2022 generate more action?
Extended information about the event
One million species are threatened by extinction and this is closely interlinked to the climate crisis. According to the WHO the climate crisis is estimated to cause over 150 000 human deaths annually. To reach the SDGs by 2030 and achieve the EU 2050 Climate neutrality target we need to change our way of living. In sustainable societies we live in harmony with Nature. How can we let the SDGs and the Paris Agreement guide us to Build Forward Better & Greener, and with climate justice, leave no one behind? What can we learn from indigenous and traditional knowledge? How could local communities bring us closer to the 1.5°C goal and the SDGs? How can Nature & Climate Justice guide us? In 2022 it's halftime in the 2030 Agenda and to 2030 since the Paris Accord and Sweden will host UN Conference, Stockholm+50. How can we combine digital solutions and knowledge on biodiversity and climate? Can milestones for 2022 and beyond help us speed up? Welcome to a dialogue on speeding up action!
Participants:
Jan-Gustav Strandenæs, Board 2022 Initiative & Coord. UNEP Major Groups Stockholm+50, 2022 Initiative Foundation
Alde Fermskog, Climate Live Sweden
Daniel Magraw, Prof Lecturer & Senior Fellow, Johns Hopkins University & Center for International Environmental Law
Bradlie Martz-Sigala, Climate Reality Leader, Climate Reality Project
Niclas Hällström, WhatNext
Göran Gennvi, Founder & CEO, Nature Academy Learning Lab AB
Helena Lindemark, Founder & CEO, 2022 Initiative Foundation
Christina Carlmark, Moderator, Climate Reality Project