Hur kan milstolpar, dialoger och digitalisering öka takten så att Agenda 2030 och Parisavtalet nås?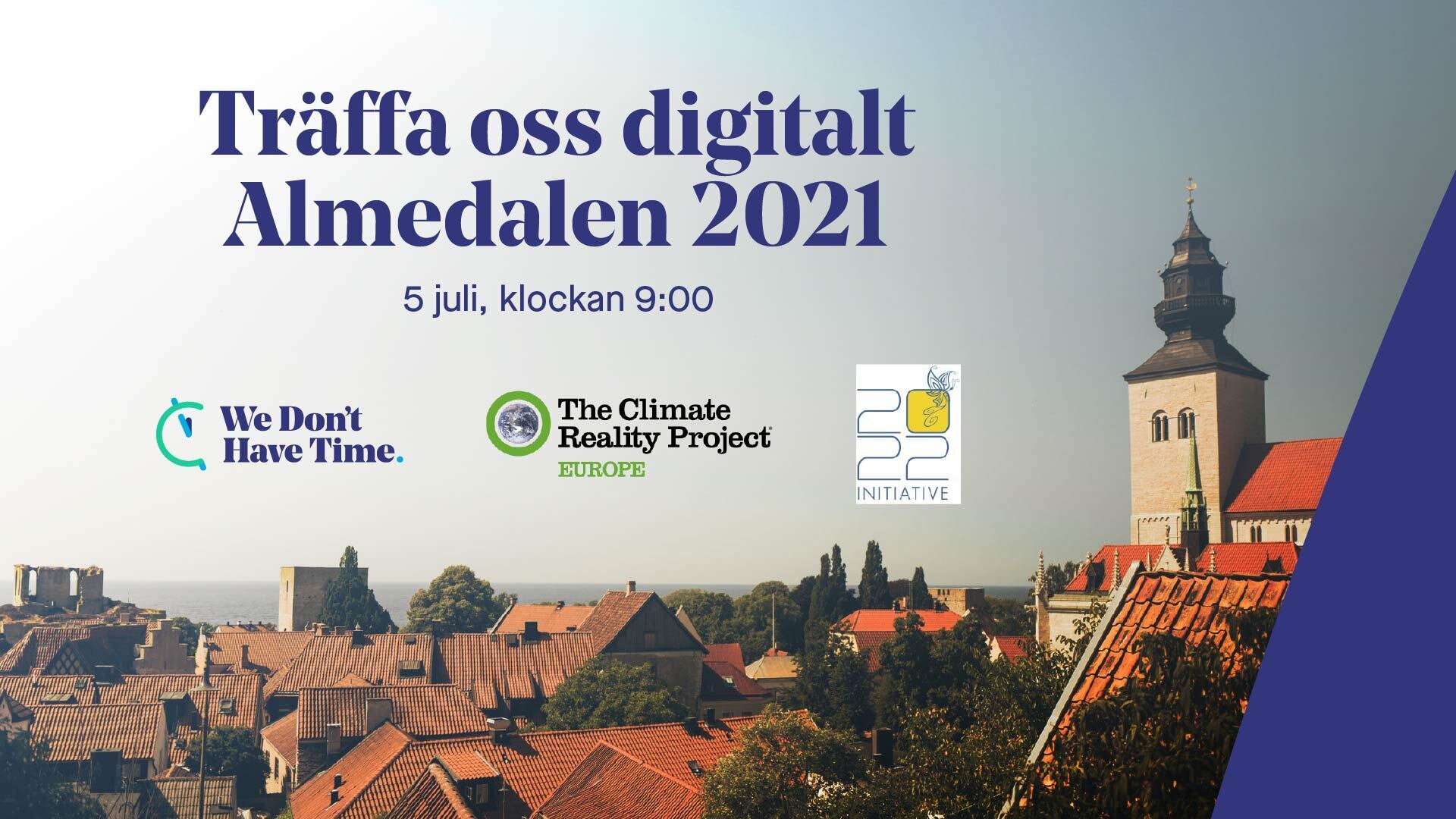 Arrangör: 2022 Initiative Foundation, Climate Reality Project Europe, Hållbar Utveckling Sverige AB, We Don't Have Time
Dag: 5/7 2021 09:00-11:00
Evenemangskategori: Seminarium
Evenemangstyp: Workshop
Ämnesområde: Hållbarhet
Ämnesområde 2: Klimat/miljö
Språk: Svenska
Plats: Digitalt evenemang
Beskrivning av samhällsfrågan
2022 är vi halvvägs till 2030 sedan överenskommelserna om Agenda 2030 och klimatet, men vi riskerar att vara långt ifrån halvvägs i genomförandet. Med milstolpar och dialoger kan vi öka takten. Genom att koppla det till den planerade Stockholm+50 FN-konferensen kan vi öka engagemanget globalt.
LinkedIn: https://www.linkedin.com/events/medmilstolpar-dialog-digitalise6816457632560226304/
Direct link to streaming on YouTube: https://www.wedonthavetime.org/events/almedalen2021
Utökad information om evenemanget
Om vi ska nå de globala målen till 2030 och lösa klimatkrisen måste vi öka takten. 2022 är vi halvvägs till 2030 sedan 2015 och besluten om Agenda 2030 och Parisavtalet. Då är det också 50 år sedan världens första FN-konferens om hållbar utveckling hölls i Stockholm 1972 och Sverige planerar för FN-konferensen Stockholm+50. Det är lätt att sätta mål till 2030 och 2045, men svårare att få till action nu. Pandemin har visat oss att vi kan agera snabbt och samverka och vi vet att det är bråttom. Klimatet och miljön kan inte vänta. Det handlar om våra barns och barnbarns framtid. Sverige och Norden ligger bra till i genomförandet. Kan milstolpar till 2022, 2024 osv få oss att öka takten? Vi planerar också för "We the Peoples'-konferenser" och "Sustainability Games in Best For the World" i juni 2022, parallellt med Stockholm+50. Vi kan komma långt redan med dagens lösningar. Dags att visa på action & ledarskap. Hur långt kan vi nå till 2022? Välkommen till en dialog om hur vi ökar takten!